Senior Night Presentations (9/21)
Senior Advising: Classroom Presentation
Parents/guardians and students: click HERE to view the presentation (in PDF format) that was shared to all seniors who had a Quarter 1 Government or AP Econ class on September 7th. Please review the presentation, especially prior to your IGP meeting with your senior and their counselor. If you have not yet scheduled your senior IGP meeting, please click on our "Appointments" tab on our menu on the left to reserve a time with your counselor sometime in September.
We hope to soon upload presentations with more specific information to different pathways after high school graduation, which we'll upload to our EHS Guidance website .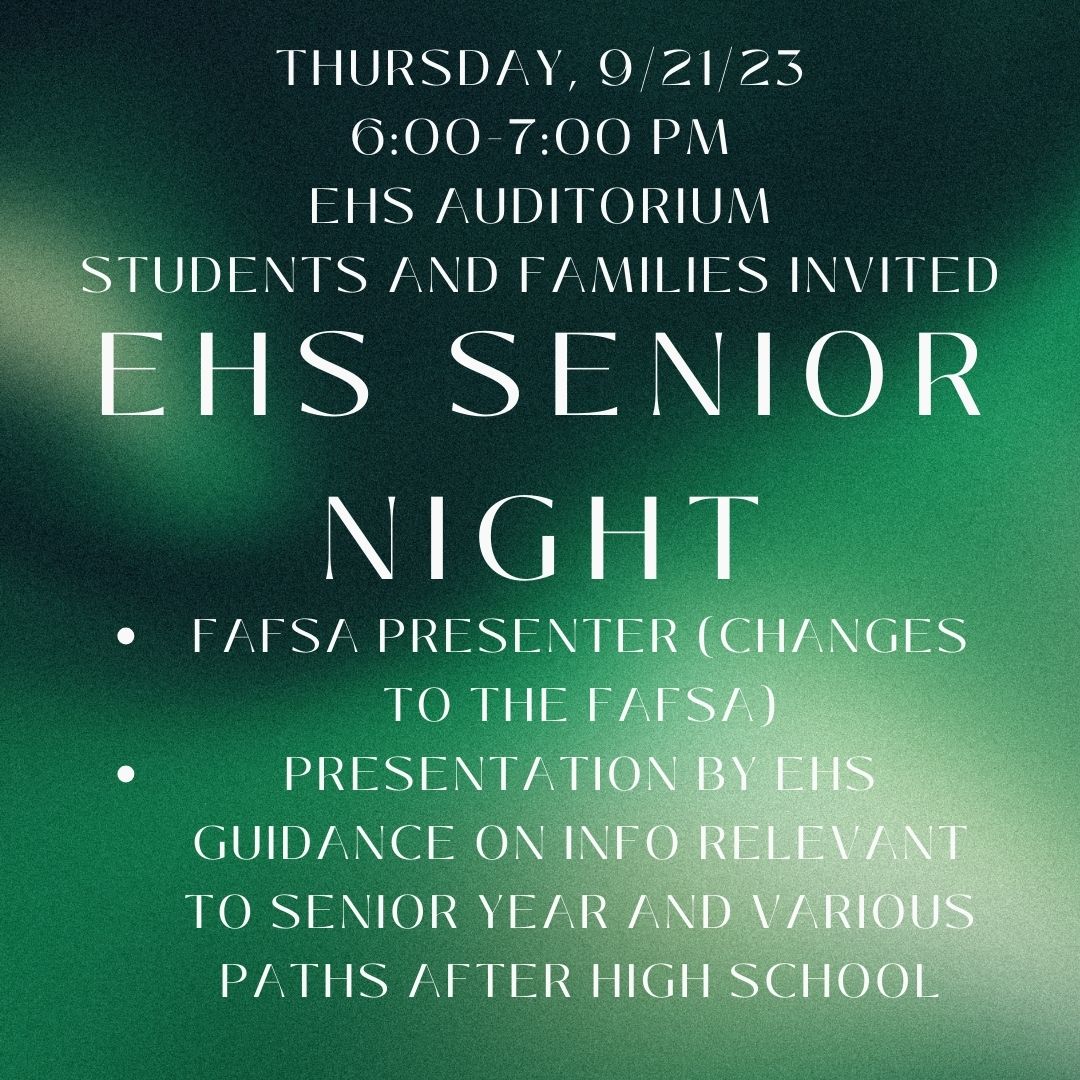 Student Survey 2023-24 (Semester 1)
Students: please complete this Google form (link is also below to copy and paste into a new tab in your browser).
https://forms.gle/VmxK3gCQNdZYnXM7A
Your responses will help us better understand areas in which to help our students.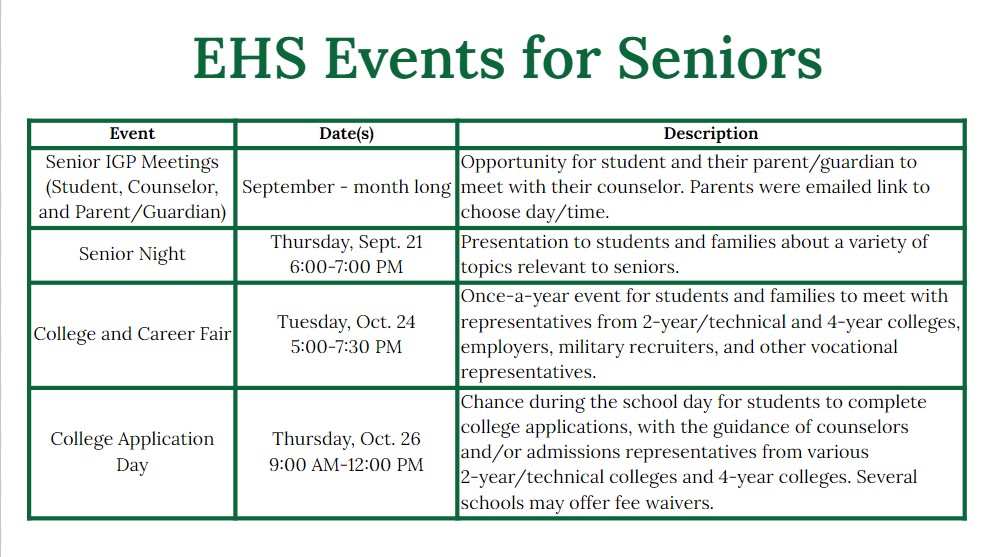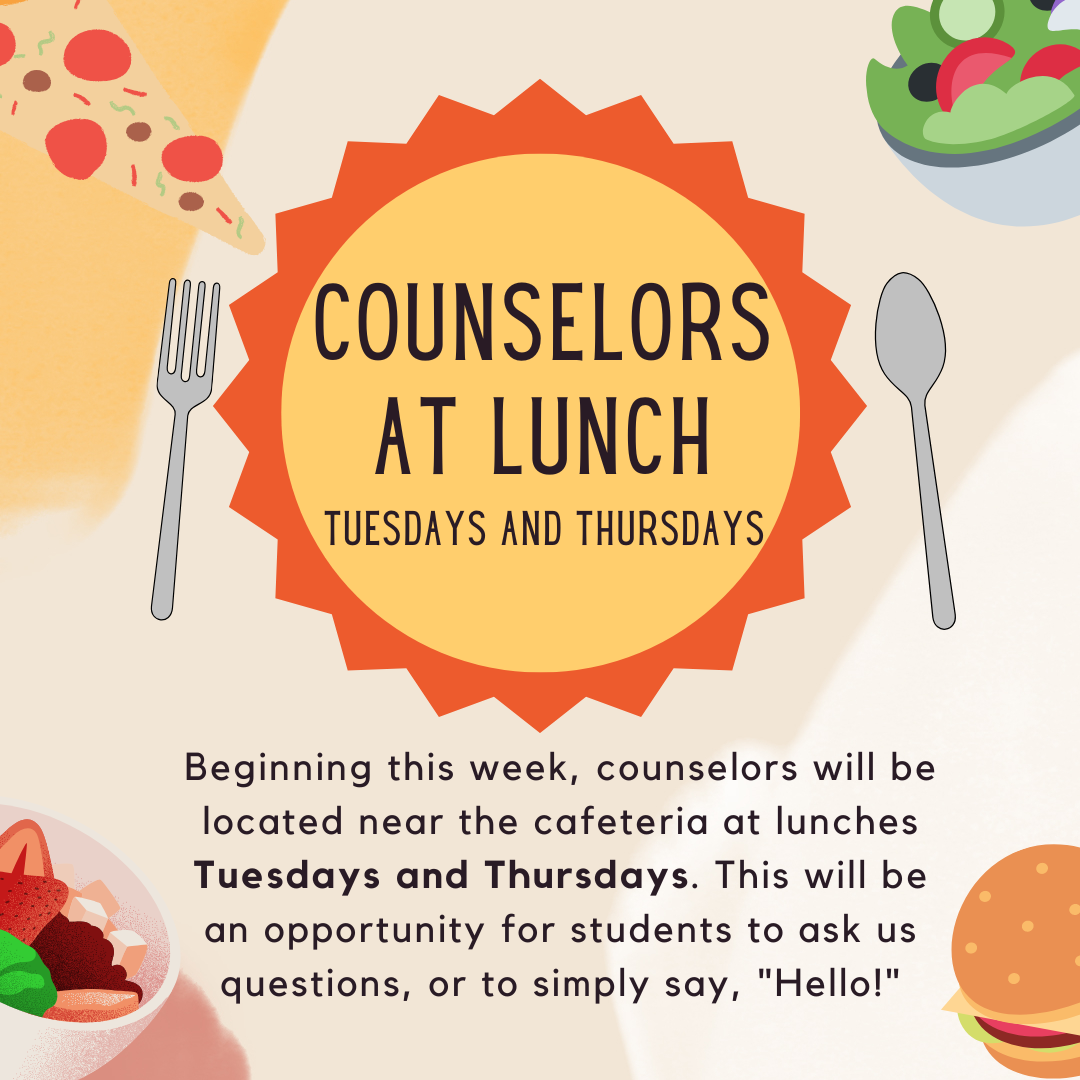 Beginning 8/22, counselors will be out near the cafeteria during lunches on Tuesdays and Thursdays.
2023-24 Schedule Change Policy
We appreciate students and families who came to one of our four registration/schedule change events prior to the first day of school. We have found that helping students and parents one-on-one, in-person with schedule changes helps provide a clearer picture of the scheduling conflicts you may be experiencing.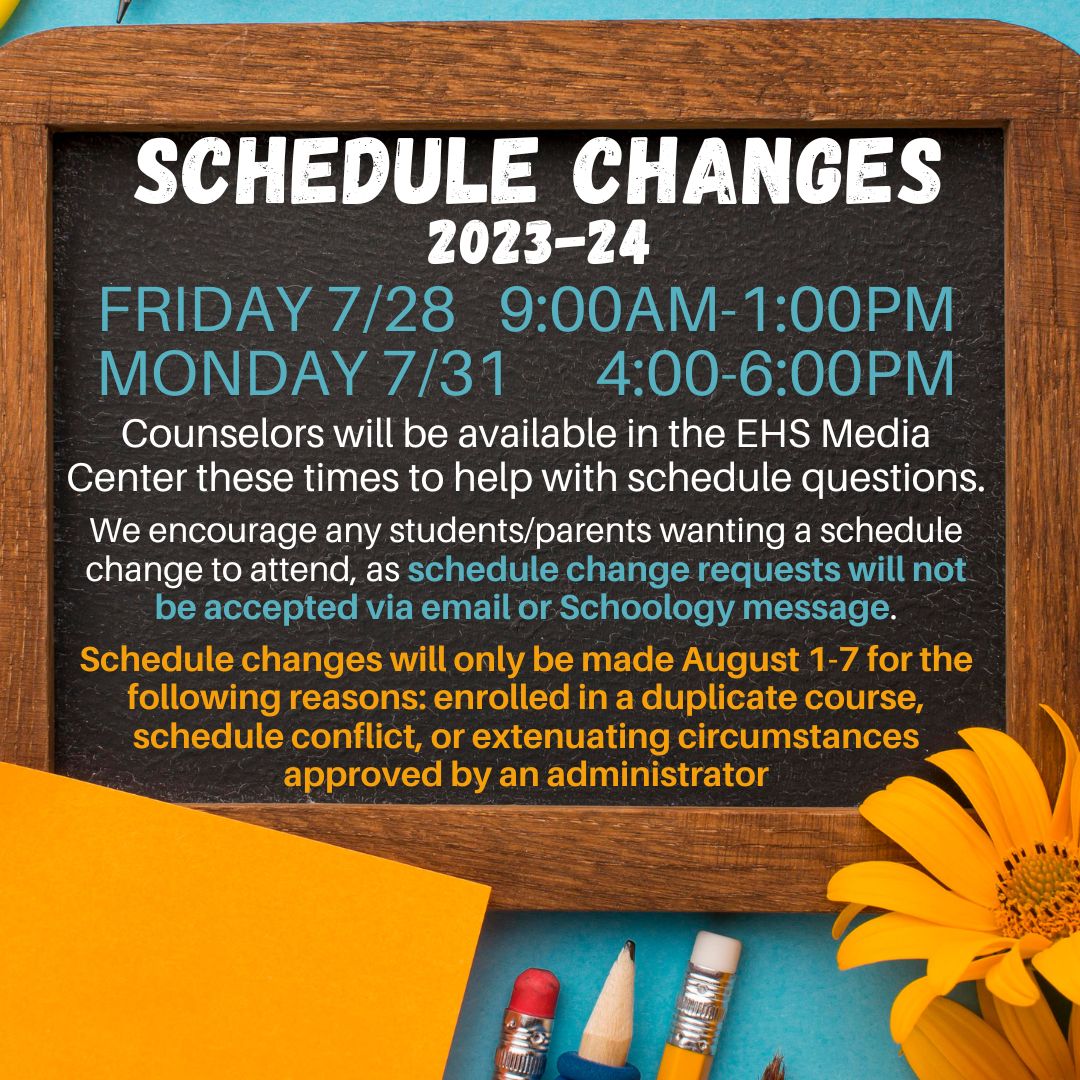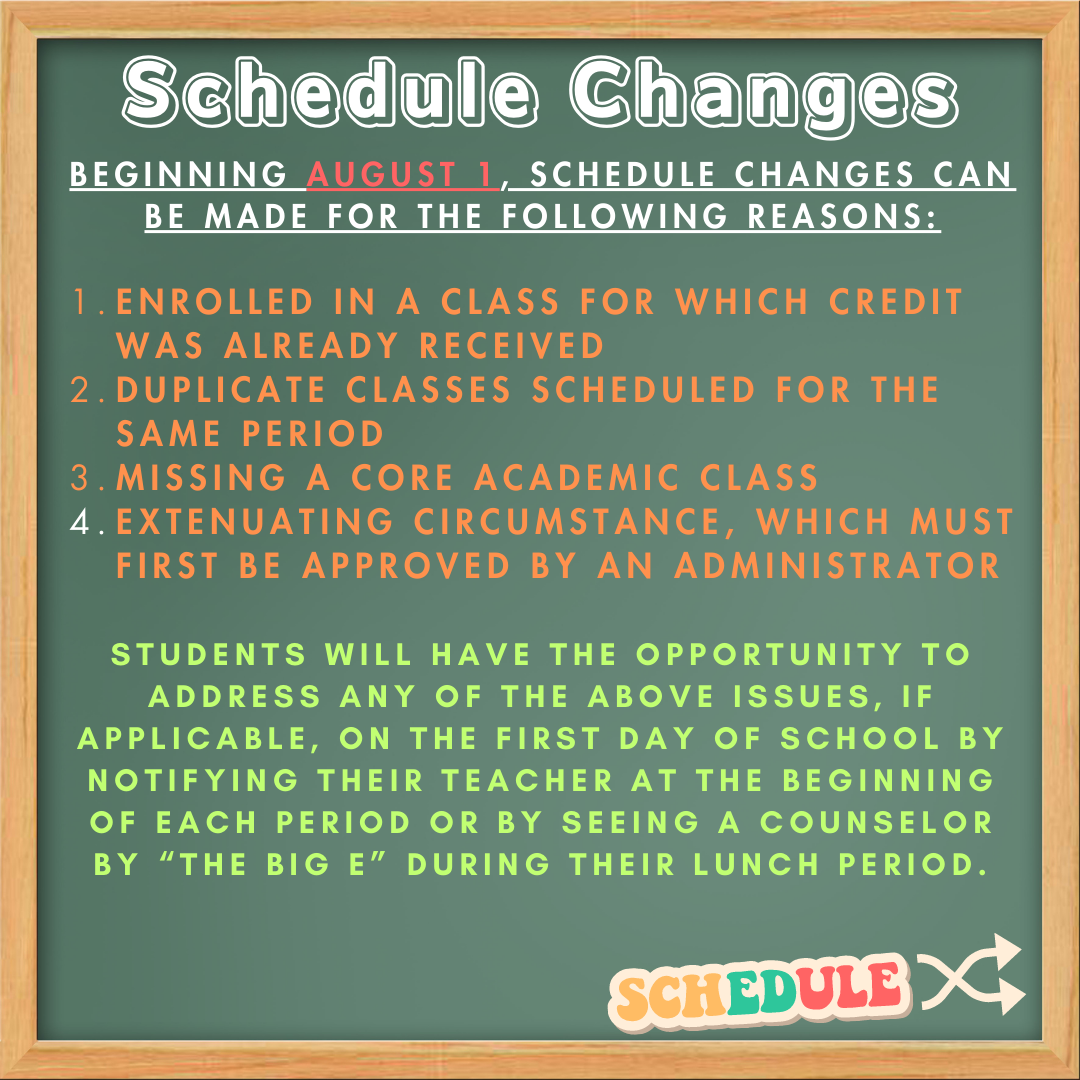 Please note: Beginning the first day of school, schedule changes will only be made for students who are missing a core class, have a duplicate class, or extenuating circumstances that must first be approved by an administrator. The window for changes that fall in the categories mentioned will be August 1 - August 7.
23-24 Registration: Course Verification Form Info and Video
As the final part of registration for courses for the 2023-24 school year, Course Verification Forms will be distributed to students in homeroom on Monday 3/27/23. This form is a FINAL opportunity to modify course requests for the upcoming school year. Students and their parents/guardians should review their form (and the letter on the back, which details important information). The letter on the back of all verification forms can be viewed by clicking HERE. If a student's form has no classes listed, it is because we have not received their registration card. If that is the case, students must make an appointment with their counselor, and may bring their registration card to the meeting if they still have it.
If a student sees a change or note needing to be made to their course requests on their Course Verification Form, they should note that change and submit their Form to the guidance office no later than Friday, 3/31 at 3:00 PM. ONLY forms noting a change must be turned in to guidance; if a student is content with the courses listed and number of total credits, they do not need to submit their form. Friday 3/31 is our hard deadline for all student/parent input, including requested changes, to courses for next year; after this date, construction of the master schedule, and in turn individual student schedules, will move forward.
This video (click HERE to view) explains important points about this final step of 2023-24 registration for students and parents. Some of these points include:
Minimum number of enrolled credits by grade level (SCDE requirement)

9th grade = 7 credits

10th grade = 6 credits

11th grade = 6 credits

12th grade = 4 credits (2 each semester)

Note: if a student does not request enough classes total to meet the minimum number of credits for their grade level next year, they should add enough electives to meet this number on their Course Verification Form (including anticipated Dual Enrollment classes) and return it to the guidance office by Friday 3/31. Otherwise, their school counselor will fill their schedule with whichever courses are most available at EHS.

A full schedule is 8 credits total.

If a student did not request 8 credits, and did not mark Early Dismissal/Late Arrival on their registration card, Study Halls will be used to fill any remaining spaces in their schedule.

Early Dismissal/Late Arrival and Study Hall do not appear on Course Verification Sheets.

These will be added, based on students' requests on registration cards, to fill all available spaces in each student's schedule after the master schedule has been built.

Updated Policy on Schedule Change Requests (will apply to final schedules given out at the start of the 2023-24 school year)

Schedule changes will no longer be allowed after the state-approved 5-day window (the first 5 days of the 2023-24 school year).

During the 5-day window, schedule changes can be made ONLY based on extenuating circumstances (included but not limited to: conflict with Dual Enrollment courses, missing a core class, enrolled in a class already taken and earned credit for).

Any changes made after this 5-day window generally results in a WF on the final transcript, which factors into GPA as a grade of 50.
Registration Week - Student Survey
Parents,
The Guidance page on this EHS website contains only general information and affiliated links where you can find more detailed information. Up-to-date information is being posted regularly to our Schoology pages (Scholarship Scoop & EHS Counselor's Corner - codes to join are below) and our Instagram (follow @EHS_Guidance ).
EHS Counselors' Corner: Access Code: RTZ3K-7TVS2

Scholarship Scoop Access Code: KX5KH-PFN9B
Upcoming Guidance Events:
Students taking Dual Enrollment or Technical Pathways (i.e. Welding, Mechatronics, HVAC, etc.) next school year (2023-24) should attend this REQUIRED meeting at the Tri-County Easley campus Monday, 4/3 at 6:00 PM (details in the image below). Registration for the event is required due to limited space; please register using the QR code in the image below. This event will cover a lot of important info that will help guide students in getting started at TCTC next year. Parents/guardians also welcome.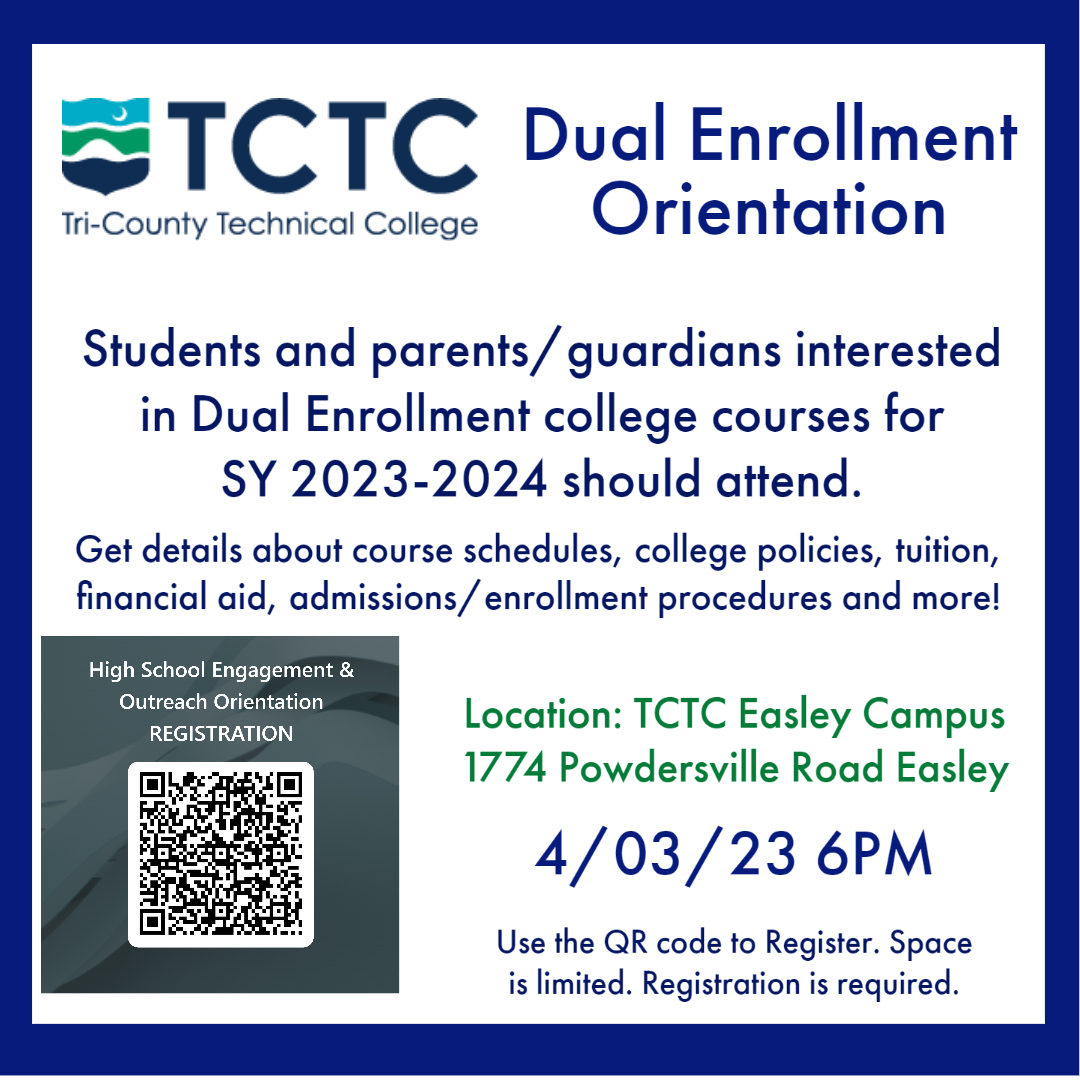 2022-23 EHS Junior Night
Juniors and their parents/guardians are invited to join us in-person in the EHS auditorium on Thursday, February 23rd from 6:00 to 7:00 pm. This is a once-a-year event that will cover some information we hope you find helpful in the critical junior year, including:
Planning for success after graduation for various postsecondary goals (i.e. 2-year/trade college, 4-year college, workforce)

Steps to complete during the remainder of the junior year

Preparing to play college sports

Preparing to seek Financial Aid

Brief explanation of IGPs with counselors and paperwork completion, if needed
We hope to see you there!
Link to Presentation: Junior Night
2023 ALA Palmetto Girls State
Attention Junior girls, American Legion Auxiliary Palmetto Girls State is coming this summer!
ALA PGS is a weeklong summer program designed to immerse you in a real, functioning government, in the mythical State of Palmetto. You'll meet lots of new friends from across the state, and you may even be eligible for some college scholarships! Be sure to see Mrs. Amy Moore (or Mrs. Marchbanks) in guidance for your application today. Applications are due February 24th.
The 76th annual session of the American Legion Auxiliary Palmetto Girls State is now accepting applications for delegate selection. Each year, ALA PGS is held to provide a unique forum for the state's rising high school senior girls to learn about government and the political process. This year's ALA PGS will be held on the campus of Presbyterian College in Clinton, SC, from Sunday, June 11, to Saturday, June 17. ALA PGS allows young women to expand their leadership skills and meet other outstanding young women from across the state. Some delegates even form lifelong bonds from their time at ALA PGS.
It is an honor to be selected as a delegate to American Legion Auxiliary Palmetto Girls State. The American Legion and its Auxiliary sponsor Boys and Girls State to educate our youth in the duties, privileges, rights, and responsibilities of American citizenship. State programs are held nationally, and alumni of these programs are known and recognized nationwide for their academic achievement and civic leadership. Many alumni of Palmetto Boys and Girls States have gone on to successfully run for local and state office in South Carolina. Colleges and universities also offer scholarships to Boys and Girls State alumni.
Applications are available now from Mrs. Amy Moore (or Mrs. Marchbanks) in guidance. Applications are due Friday, February 24th. If you have any questions about ALA PGS or the application process, please contact the EHS guidance Department.